POLUTION CONTROL PHASING OUT ODS & ENERGY MANAGEMENT
Pollution Control.
The programmes of the Institute were so designed and pursued to meet the changing Industrial scenario consequent upon the globalization and emerging concern for energy efficiency and Pollution control.
Facilities for techniques of Pollution Control on nickel, chromium, zinc, copper, silver, gold plating and anodizing are available with the Institute.
Phasing out of Ozone Depleting Substances (ODS)
The objective of the Orientation Programme on Safety Aspect In Aerosol Industry under ODS Programme is to make aware to the units of Aerosol sector with viable, technically feasible and environment friendly substitute used in Aerosol Industry.

Energy Audit/Energy Management
The study is intended to assess the existing energy use pattern of the plant and to explore areas where energy and monetary savings can be achieved by employing suitable techno-economic measures.
It is expected that the findings will not only supplement the efforts of the Management in bringing the energy bill of the Plant to the lowest possible level but also increase the plant safety level and reduce the pollution around it.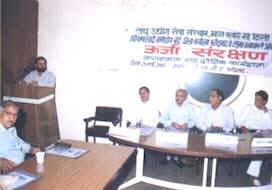 ---
©Ministry of MSME, New Delhi
Maintained and Managed by SENET division through Creation Multimedia
Last Updated On:
December 15, 2016