INFORMATION TECHNOLOGY
Computer Training Centre (CTC)
The CTC in collaboration with ICSIL (Intelligent Communication Systems India Ltd.) since January 2008 to caters to the need of entrepreneurs of Small Scale Sector as well as for the internal needs of the Institute. The Institute has also initiated special programmes for introduction of Information Technology in the small- scale sector in the jurisdiction to improve their competitive strength for successfully facing the challenges of domestic and Export Market.
Types of Programme offered by the Computer Lab at MSME-DI
M.S. Office
Office and accounting package
Visual Basic v Internet & Java v Programming logic techniques & ' C'
Computer Hardware & Networking Basic
ERP Awareness
C++ & OPS
Web Design
Advanced Diploma in Software Technology
Centre for Information Technology (CIT)
The CIT has been setup jointly by MSME-DI New Delhi & ERDCI (NOIDA) to conducts various computer courses in the field of Office Automation, ERP Related, Data Base Related, Programming Base, Internet & Networking and E-commerce.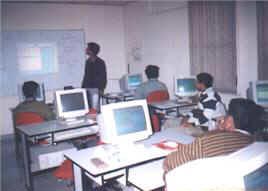 ---
©Ministry of MSME, New Delhi
Maintained and Managed by SENET division through Creation Multimedia
Last Updated On:
December 15, 2016