ENTERPRENURSHIP CUM SKILL DEVELOPMENT PROGRAM
Micro, Small and Medium Enterprises Development Institute is one of the pioneer Institute for the development of the entrepreneurs in the country. Special entrepreneurship development programmes are organized for women, engineers, educated unemployed, weaker section, and defence personnel's every year through product oriented EDP courses. The Institute also conducts general and special product oriented development programmes, every year.
Programme Details: Duration: 6 Weeks (Monday to Friday) Minimum Intake: 20 Nos. Training Fee (Minimum): Rs.200 for General Candidates, No fee for SC/ST and 50% (Rs.100) from Women and Physically Handicapped Qualification: As decided by the Director of this Institute
Age: 18 years and above
LIST OF EDPs
Repairing & Maintenance of Computer
General EDP for Women
Exports
Fashion Garments
Bakery Industry
Cosmetics & Perfumery products
Export packaging
Studio Art & Pottery
Electrical Appliance & office equipment
Assistance to SC/ST/Women Entrepreneurs
The Institute continues to lay emphasis on the development of entrepreneurship amongst SC/ST/Women etc.
In addition the Institute organizes Entrepreneurship Development Programmes exclusively for Women.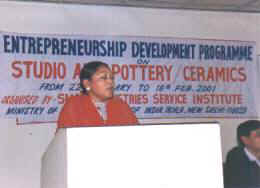 ---
©Ministry of MSME, New Delhi
Maintained and Managed by SENET division through Creation Multimedia
Last Updated On:
December 15, 2016