The Institute conducts management development courses in the fields of marketing, production, financial, packaging for export, Labour Laws etc. & Offer comprehensive management consultancy to individual or a group of units.
Programme Details:
Duration: 1 Week (Monday to Friday)
Minimum Intake: 20 Nos.
Training Fee (Minimum): Rs.400 for General Candidates, No fee for SC/ST and 50% (Rs.100) from Women and Physically Handicapped
Qualification: As decided by the Director of this Institute
Age: 18 years and above
With hard determination and sincere efforts, the Micro, Small and Medium Enterprises Development Institute, Okhla, New Delhi has taken the initiative and is paying special attention to make remarkable contribution in these areas of activities for the development of entrepreneur resource in small-scale sector in particular and to generate more employment. The small sector is performing better than most of industry at a time when most of industry is witnessing a significant slowdown and thereby contributing its might to the national economy.
LIST OF MDPs
Topic
Export Management
Marketing Management
Export Procedure & Documentation
Financial Management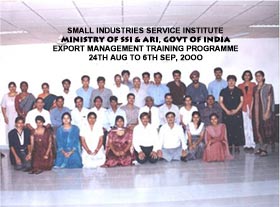 Sitting (from Left to Right) : 1: Anita Goswami, 2.Kiran Singh, 3.Kiran Lata Gupta, 4.Saran Jeet Kaur, 5.Dolly Jatav, 6.Dinesh Gupta, 7.Manoj Sharma, 8.Sanchita Ghoshal, 9.Pallavi

On Chairs(from Left to Right) : 1.Raj Kumar Sharma, 2.B.Gopal Krishan, 3.Bharat Bhushan, 4.Pradeep Kumar Sharma, 5.Patrick Baxia, 6.DSKandari, 7.Vinod Choudhary, 8.K K Goyal, 9.Neelam Pant, 10.Ranvir Singh

Standing Last Row (from Left to Right) : 1.Vishin Israni, 2.Devinder Kamra, 3.Molly Yohanan, 4.Mercy Daniel, 5.Yogesh Raichandani, 6.Sumit Mandal, 7.Vikas Goel, 8.G P Pal, 9.Gitish Khurana, 10.A K Maurya 11.Arvind Singhy, 12. Arun Gupta, 13.Sanjeev Sawhney, 14.Lakhwinder Singh Bhatia, 15.Kuldeep Verma, 16.Kulwinder Verma, 17.Sumish Singh, 18.Rashna M Saxena